TIMSS Advanced 2008 Technical Report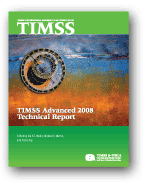 TIMSS Advanced 2008 Technical Report.
Arora, A., Foy, P., Martin, M.O., & Mullis, I.V.S. (Eds.). (2009). Chestnut Hill, MA: TIMSS & PIRLS International Study Center, Boston College.
The TIMSS Advanced 2008 Technical Report provides further detail and documentation about the processes underlying the development of the TIMSS Advanced 2008 instruments, as well as the methods used in sampling, data collection, scaling, and data analysis. It also describes the numerous steps and procedures employed to ensure the high quality of internationally comparative data. In particular, this report explains the multifaceted attention to quality control that was undertaken, from updating the assessment frameworks for TIMSS Advanced 2008 through the release of the international database and User Guide.
Download Files
Publications are formatted in Portable Document Format (PDF) and intended for use with Adobe Reader.

If you need to download a copy of Adobe Reader, which will enable you to read and print the reports, click the Adobe icon.