TIMSS Advanced 2008 International Report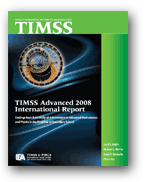 TIMSS Advanced 2008 International Report: Findings from IEA's Study of Achievement in Advanced Mathematics and Physics in the Final Year of Secondary School.
Mullis, I.V.S., Martin, M.O., Robitaille, D.F., & Foy, P. (2009). Chestnut Hill, MA: TIMSS & PIRLS International Study Center, Boston College.
Download Files
Publications are formatted in Portable Document Format (PDF) and intended for use with Adobe Reader.

If you need to download a copy of Adobe Reader, which will enable you to read and print the reports, click the Adobe icon.
The report is also available in a printed and bound volume which can be ordered can be ordered for a fee, for details please see the order form. Shipping and handling is $5 for each book within the continental United States, US$15 per book for Alaska, Hawaii, and international orders. Print a faxable order form.