PIRLS 2011 Assessment Framework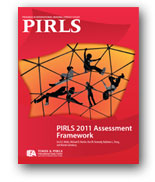 The PIRLS 2011 Assessment Framework serves as a blueprint for IEA's 2011 PIRLS and prePIRLS assessments of reading literacy. The framework describes the purposes for reading and the processes for comprehension that are assessed by PIRLS, and presents the test booklet design and specifications. The framework also establishes the national contexts as well as the home and school factors to be covered in the PIRLS 2011 Encyclopedia and the questionnaires completed by the students themselves as well as their parents, teachers, and school principals.

Publications are available in Portable Document Format (PDF). If you need to download a copy of Adobe Reader, which will enable you to read and print the reports, click the Adobe icon.
The report is also available in a printed and bound volume which can be ordered by request. Shipping and handling is $5 for each book within the United States, US$15 per book for international orders. Print a faxable order form.
Download by chapter: