TIMSS Advanced 2008 International Database
TIMSS Advanced 2008 DVD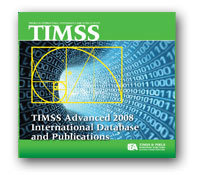 TIMSS Advanced 2008 International Database
The TIMSS Advanced 2008 International Database is available to all individuals interested in the data collected and analyzed as part of TIMSS Advanced 2008. The aim is to support and promote the use of the data by researchers, analysts, and others interested in improving education. The database is available for download on this page, and on the DVD entitled TIMSS Advanced 2008 International Database and Publications. The database includes the student achievement data as well as the student, teacher, school, and curricular background data for the 10 participating countries. The student teacher, and school data files are in SAS and SPSS formats with programs and macros.
The TIMSS Advanced 2008 DVD also contains an updated version of the 1995 database that includes the rescaled achievement scores for advanced mathematics and physics produced using the current TIMSS scaling methods.
The database is accompanied by the TIMSS Advanced 2008 User Guide, Foy, P., & Arora, A. (Eds.), containing four chapters accompanied by four supplements. There also is an executable file for installing the IEA IDB Analyzer.
The TIMSS Advanced 2008 DVD includes a complete set of the TIMSS Advanced 2008 publications as well as the User Guide and International Database:
TIMSS Advanced

2008

Assessment Frameworks for Advanced Mathematics and Physics
TIMSS Advanced

2008

International Report
TIMSS Advanced

2008

Technical Report
Download Files
SOURCE: TIMSS Advanced 2008 Assessment. Copyright © 2009 International Association for the Evaluation of Educational Achievement (IEA). Publisher: TIMSS & PIRLS International Study Center, Lynch School of Education, Boston College.
Publications are formatted in Portable Document Format (PDF) and intended for use with Adobe Reader.

If you need to download a copy of Adobe Reader, which will enable you to read and print the reports, click the Adobe icon.
The DVD can be ordered for a fee, for details please see the order form. Shipping and handling is $5 for each book within the continental United States, US$15 per book for Alaska, Hawaii, and international orders. Print a faxable order form.
Download the TIMSS Advanced International Database and User Guide Files