PIRLS 2011 International Database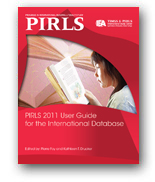 The PIRLS 2011 International Database is available to all individuals interested in the data collected and analyzed as part of PIRLS 2011. The aim is to support and promote the use of the data by researchers, analysts, and others interested in improving education. The database is available for download on this page and includes the student achievement data as well as the student, parent, teacher, school, and curricular background data for the 49 countries and nine benchmarking entities that participated. The student, parent, teacher, and school data files are in SAS and SPSS formats with programs and macros.

The entire database and its supporting documents are described in the PIRLS 2011 User Guide (Foy & Drucker, 2013) and its four supplements. The data can be analyzed using the downloadable IEA IDB Analyzer, an application developed by the IEA Data Processing and Research Center to facilitate the analysis of the TIMSS and PIRLS data.

The PIRLS 2011 Released Items are available in Portable Document Format (PDF). If needed, click here to download Adobe Reader® to read and print these materials.
SOURCE: PIRLS 2011 Assessment. Copyright © 2013 International Association for the Evaluation of Educational Achievement (IEA). Publisher: TIMSS & PIRLS International Study Center, Lynch School of Education, Boston College, Chestnut Hill, MA and International Association for the Evaluation of Educational Achievement (IEA), IEA Secretariat, Amsterdam, the Netherlands.
Please note that IEA cannot authorize the use of texts or items that include third-party copyrighted materials (e.g., reading passages, photographs, images). Users of any third-party copyrighted materials must seek and receive copyright permission from the owner of the content as indicated in the copyright citation line.
PIRLS 2011 International Database Downloads