PIRLS 2006 International Press Release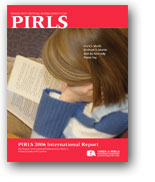 Webcast on November 28, 2007
Lynch School of Education, Boston College
The TIMSS & PIRLS International Study Center, Lynch School of Education, Boston College, in association with IEA, is pleased to announce the international release of the PIRLS 2006 results via live webcast at Boston College on November 28, 2007. PIRLS 2006 is a comparative study of student achievement in reading literacy conducted in 40 countries. The press materials accompanying the press release (see below) are available for downloading from this web page.
The press materials include
the news release,
statements from the presenters at the press conference,
data exhibits summarizing principal achievement results,
contact information for national representatives from each of the countries that participated in PIRLS 2006.
Download Files
Publications are available in Portable Document Format (PDF). If you need to download a copy of Adobe Acrobat Reader at no cost, which will enable you to read and print the reports, press the icon below.