Robyn Caygill
Jonathan Flockton
Ministry of Education
Overview of Education System
New Zealand has a decentralized education system that has three distinct levels: early childhood education, the schooling sector, and tertiary education. Authority for day-to-day operations and financial management is devolved from central government to educational institutions. Within the schooling sector, legal responsibility for governance is assigned to boards of trustees. These boards consist of elected parent and community volunteers, the school principal, a staff representative, and in secondary schools, a student representative also may be elected. Boards of trustees must establish a charter for their school that includes targets for student learning and improvement. They are required to work within the National Education Guidelines defined by the Education Act 1989.1
Seven organizations are involved in developing, implementing, and monitoring education policies in New Zealand. Four of these play pivotal roles in establishing national policy and quality assurance across New Zealand's schooling system: the Ministry of Education, the Education Review Office, the New Zealand Qualifications Authority, and the Education Council of Aotearoa New Zealand.a
The Ministry of Education is the government's lead agency for the education system, giving direction to other agencies and education providers. The ministry is responsible for developing a national curriculum and providing operating guidelines for educational institutions. Key functions of the ministry are providing policy advice to the government and overseeing implementation of approved policies. It also collects and processes education statistics and information, and monitors the education system's effectiveness. The ministry allocates funds and resources to education institutions, including professional development programs, and it manages a large property portfolio.
The Education Review Office (ERO) evaluates the quality of education and compliance with regulatory provisions in each early childhood center and school. ERO evaluates all aspects of each center and school, including student learning and progress, community engagement, leadership and governance, and statutory compliance. The reviewers look for evidence of a high quality self-review process that concentrates on improvement. However, the overarching focus of a review is to monitor the effectiveness of the school's curriculum in promoting student learning.2
The New Zealand Qualifications Authority (NZQA) oversees and coordinates all national qualifications (e.g., secondary school and academic, professional, and trade qualifications). Within the school system, the authority manages the assessment and reporting systems for the National Certificate of Educational Achievement (NCEA), New Zealand's national senior secondary school qualification.3
The Education Council of Aotearoa New Zealand (EDUCANZ) (formerly known as The New Zealand Teachers Council) is the professional and regulatory organization for registered teachers in the early childhood education and schooling sectors. EDUCANZ works autonomously from the government as an independent statutory body, and responsibilities include the establishment and maintenance of standards for teacher registration, and quality assurance for teacher education programs and teacher qualifications.4
Schooling in New Zealand is compulsory for all students ages 6 to 16, although the vast majority of children start school following their fifth birthday (Year 1) and remain through 13 years of schooling to age 18 (Year 13).b
Exhibit 1: Structure of New Zealand's Early Childhood Education and Schooling Sectors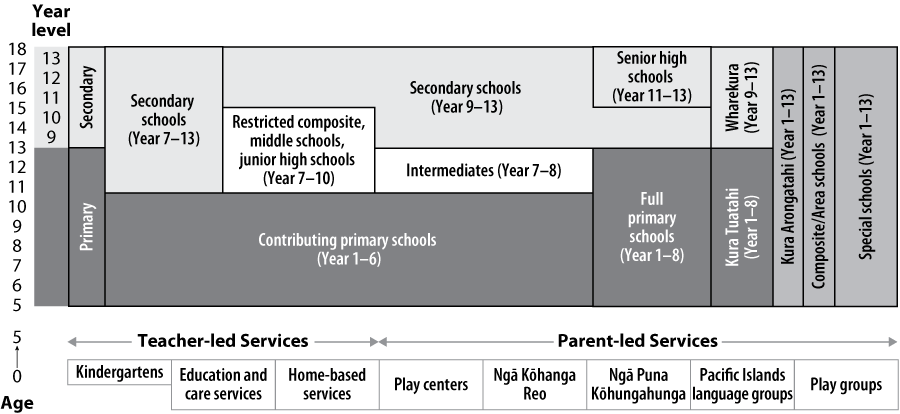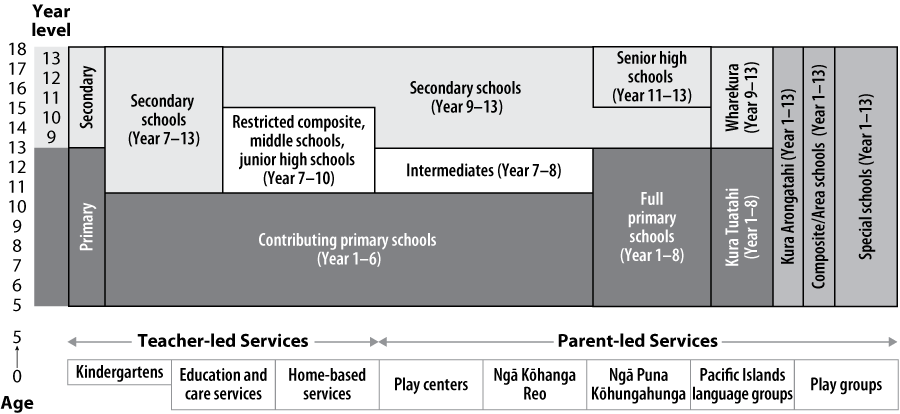 Education in state schools is free, although many schools ask for donations and charge for school field trips. Education is spread across various types of schools and is loosely divided into two parts: primary education for students in Years 1 to 8 (typically ages 5 to 12), and secondary education for students in Years 9 to 13 (typically ages 13 to 18). However, the lines between primary and secondary are somewhat blurred. Some schools cater to both primary and secondary students; for example, area schools cater to students from Years 1 to 13. Note that the various types of primary and secondary schools shown in Exhibit 1 do not necessarily differ in the course of study offered, but reflect the age range of children accepted (e.g., a full primary school covers Years 1 to 8 while a contributing primary school only provides for students up to Year 6). Students whose parents are prepared to pay fees or who are awarded scholarships have the option of attending private schools.
There is no tracking of students into academic or vocational streams or specialized schools in New Zealand. The National Certificate of Educational Achievement, New Zealand's official school qualification system for secondary schools, offers subjects across the full breadth of the curriculum, from traditional academic courses to more applied subjects.
In primary schools, more assessment emphasis is placed on reading, writing, and mathematics than science through the creation of National Standards in Numeracy and Literacy. Schools are instructed through the National Administration Guidelines to give priority to student achievement in literacy and numeracy, especially in Years 1 to 8.5 Particular focus is directed toward students in groups identified as most at risk of underachieving, namely Māori and Pasifika students, students from low socioeconomic backgrounds, and those with special education needs.
Languages of Instruction
New Zealand has three official languages: Māori (the indigenous language), English (by virtue of its widespread use), and New Zealand Sign Language.c Māori, a taonga (treasure), is recognized under New Zealand's founding document, the Treaty of Waitangid and has been an official language since 1987. Māori is a Malayo-Polynesian language closely related to the languages spoken in Samoa, Hawaii, Rarotonga, and French Polynesia.6 New Zealand Sign Language became the country's third official language in 2006. Other languages commonly spoken in New Zealand include Samoan, Hindi, Northern Chinese (Mandarin), Cantonese (Yue), and Tongan.7
While most teaching and learning in New Zealand schools is in English, an important feature of the education system is Māori language education, with students participating in Māori language classes in English-medium or Māori-medium schools. Just under 4 percent of students were enrolled in bilingual or full immersion Māori-medium instruction in 2014.e,8 For the majority of students learning in Māori-medium settings, Māori is their second language while English is their first. In 2014, less than 1 percent of primary and secondary students received some instruction in a Pacific Islands language, most often Samoan.9
The New Zealand population is becoming increasingly ethnically diverse.f,10 The ministry provides additional funding for schools to meet the needs of students from non-English-speaking backgrounds who are learning English as a second language. Most schools include students from non-English-speaking backgrounds in general classes and make arrangements, such as teacher aide support or individual lessons with a specialist teacher, for students needing additional help. In a small number of schools, entire classes of students have English-language learning needs.